Public Safety Responder

About
Distinguished by their gray uniform polo shirt, Public Safety Responders (PSR) are a non-sworn, unarmed position under the direction of the UCI Police Department. PSRs play a key role in the holistic, tiered response plan in UCI's public safety mission by patrolling and responding to non-emergency calls for service that do not require a uniformed police officer. This tiered response frees sworn officers to concentrate on emergencies or calls that require a police officer response.
Although PSRs perform various functions, their core mission is aimed at the overall safety and security of the UCI campus and UCI Health.
Training
As a foundational job requirement, every PSR must earn a security guard card certified by the State of California's Bureau of Security and Investigative Services. To further their training and enhance their effectiveness to meet the unique needs of our community, PSR's also complete the Federal Emergency Management Agency (FEMA) Incident Command System (ICS) courses 100, 200, and 700. They must also earn certifications through the International Association for Healthcare Security and Safety (IAHSS) due to their range of services at UCI Health. And just like our police officers, they receive regular de-escalation and implicit bias training so they can offer the best customer service to all members of the community.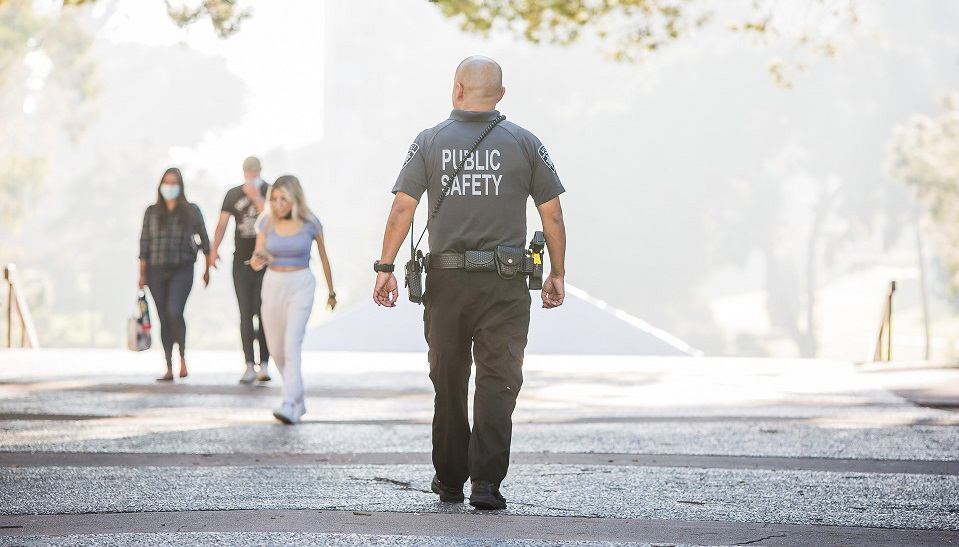 Specific Duties
Safety Escorts
Door Lock/Unlock Services
Bicycle Registration
Safety and Security Patrol
B.E.E.P. (Bicycle Education and Enforcement Program)
Fire Alarms
Safety Monitoring
Lost and Found
Provide information, directions and assistance to community members
Assist students, faculty, staff, and visitors