A Message from the Chief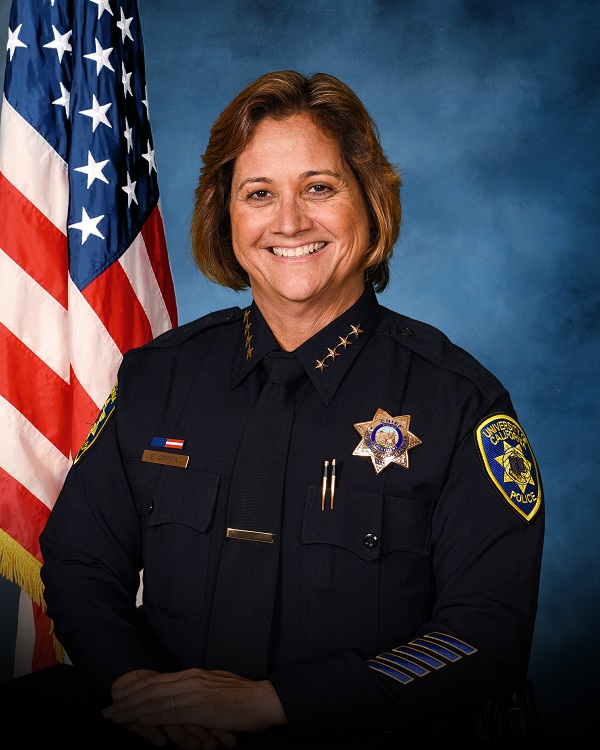 On behalf of the dedicated law enforcement officers and personnel of the UCI Police Department, I would like to welcome you to our new website. Our Public Safety team is committed to providing the highest quality in public safety and professional policing services, and to ensure a safe and secure learning environment for the entire UCI community.
Within this website you will find information about the Police Department including our Mission and Vision Statements as well as our Core Values upon which we base our policing philosophy. Our team believes in and supports strong community engagement and strives to develop collaborative partnerships throughout the campus and the community. We hold in high regard the richness of diversity, inclusion, and the importance of treating everyone with dignity and respect. 
You will find information about campus safety, crime prevention and awareness programs, and a wide variety of services provided by Department personnel. We have a very active Community Safety Ambassador program on campus and we encourage any students interested in participating in this program to inquire further.
We also launched our first Community Police Academy in Spring 2019, which provided individuals interested in the operations of law enforcement an in-depth glimpse of their UCI Police Department. This interactive, hands-on program provides participants an opportunity to learn more about the roles and responsibilities of police officers and the support staff that make up the Public Safety team, and to foster a closer relationship with the community we serve.
Included in our website are safety brochures that include safety tips and other important information. Additional information can be found on hate crimes, domestic violence, rape prevention, and other important topics. If you cannot find the content or answers you are seeking on this website, please reach out to us through our Contact page.
We look forward to working with the entire university community to cultivate relationships and develop partnerships to provide a safe and supportive environment for faculty, staff, residents, visitors, and students to learn and grow.


Elizabeth "Liz" Griffin
Chief of Police