K-9 Program

About the K-9 Program
UCIPD's K-9 Program launched in August 2021 to enhance campus safety. UCIPD's K-9 is trained to detect firearms and explosive-related materials. In the future, the K-9 will also be trained in tracking so it can be used in missing and lost person calls. One of the K-9's primary duties is conducting searches and security sweeps to help ensure a venue is safe.
The K-9 program was funded by the UC Violent Acts and Mitigation Program (VAMP) grant out of the Risk Management office of the University of California Office of the President (UCOP). Prior to applying for funding, the concept of a K-9 Program was also presented to UCI's Public Safety Advisory Committee (PSAC). PSAC supported the grant application.
About Cliff
Cliff is UCIPD's first K-9 and joined UCI on July 15, 2021. He is a chocolate lab and was born on June 2, 2019. Cliff lives at home with his handler and enjoys playing with his tennis ball and KONG chew toy when he's not working. To learn more about Cliff, we invite you to review the frequently asked questions below.
About Cliff's Handler
A handler is an officer who is responsible for the training and care of the K-9. Officer Jordan Leyland, a three-year veteran with UCIPD, was selected as the department's first K-9 handler. He formerly attended UCI on a baseball scholarship and played professionally before pursuing a career in public safety.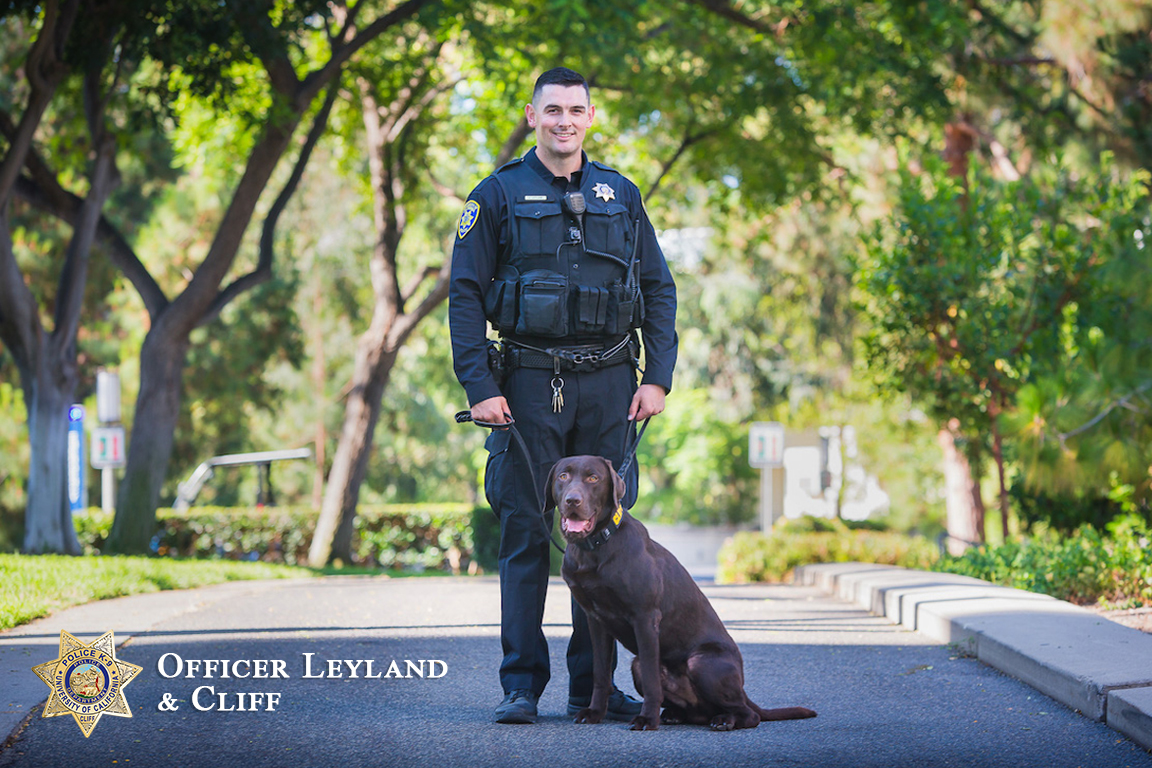 Frequently Asked Questions
Police dog units are often referred to as K-9, which is a homophone on the word canine. If you see it on the side of a police car, it means the car is carrying a working police service dog.
Unlike the average family pet, a police service dog such as Cliff, is extremely active and requires a diet formulated to meet his increased energy and nutrient demands. Cliff's diet is strictly monitored by his veterinarian and Officer Leyland.
Cliff is always eager to meet members of our community. You'll often find him to be exhuberant and excited to be at UCI. But as with any dog, we recommend you ask Officer Leyland before approaching because there's a chance Cliff could be busy on an assignment.
Once you have Officer Leyland's consent, he'd be delighted to properly introduce you to Cliff.
After a job well done, Cliff is often rewarded with his two most treasured toys - his tennis ball and KONG chew toy.
When Cliff is not at work, he's a beloved member of Officer Leyland's family where he passes the time as any other dog does - comfortably relaxing and hanging out with everyone.
Cliff receives weekly training while maintaining a minimum of 12 hours per month in order to meet training standards. His training exercises include obedience, agility, evidence searches related to firearms and spent ammunition, and explosives detection.
Cliff has been trained to detect derivatives of explosives and explosive residues. As a bonus, because of his conditioning to smokeless powder and other explosive fillers, Cliff can also detect firearms and ammunition. He is trained to search open areas, buildings, containers, rooms, and vehicles.
Upon smelling an explosive component, Cliff will exhibit a behavior change as he attempts to narrow down the origin. Cliff will sit down near the source to notify Officer Leyland that the area requires further investigation.
No, Cliff is solely trained to detect firearms and explosive-related materials, as well as tracking lost and missing persons.
Depending on the date, time, and availability of Cliff, we'll make an effort to provide a demonstration for your event.
His demonstrations of basic obedience, agility, article searches, and mock explosive searches are intended to showcase his skill and work. During this time, children and adults have an opportunity to learn and ask questions about our K-9 Program. The value of these exhibitions provide immeasurable benefits for everyone as the interaction encourages the community to build trust towards our officers.
Emergencies arise and Cliff may have to cancel engagements to respond to calls for service. If this occurs, we apologize and another date may be arranged.
Occasionally, we'll have a photographer taking pictures of the children with Cliff and they may be posted on our website or social media.
Cliff comes from a line of hunting dogs. He was originally discovered at a Search Dog foundation. Because of his size, he was not considered a good match for search and rescue work. He completed a 240-hour explosives detection training program before starting at UCI.
In the future, he will be completing a 160-hour tracking course to search for lost and missing persons.
Each month, Cliff completes a minimum of 12 hours of in-service training to maintain his detection and obedience proficiency.
The purchase and startup costs for UCI's K-9 program were funded under the Violent Acts Mitigation & Prevention (VAMP) grant which is administered through the University of California Office of the President (UCOP) Office of Risk Services.
The VAMP grant provided $100,000 in funding which was utilized for the purchase and training of K-9 Cliff and his handler; on-going training and certification; the purchase of a specially equipped vehicle; explosive training aides and equipment; veterinary services; and food.
Ongoing annual costs are estimated to be $5,000 in order to cover everything from food, veterinary services, insurance, training, and equipment.
No, the VAMP grant does not receive funding from these entities.
Through ongoing verifiable training and certification.
UCI Police do not conduct "unjustified searches". Searches are based on probable cause, search warrants, or exceptions to the search warrant rule.
The Courts have held that a K-9 trained in narcotic detection may be used for the basis of determining probable cause for a search for illegal narcotics. Cliff is not a narcotics detection K-9.
K-9s trained in explosives detection cannot be used as the basis of determining probable cause for a search or a search warrant because some of the elements (scents) the K-9 may alert to are legal to possess. There would need to be additional facts to support probable cause.
It's important to remember that the purpose behind our explosives detection K-9 program is not for criminal investigations, but to detect explosives in order to keep our campus community safe.
UCI K-9s are not trained to respond to, or ever considered, for use in crowd control, protest, or an act of public disorder.
K-9 training and deployments are tracked by the K-9 handler and routinely inspected by the K-9 Coordinator.
The K-9 handler also wears a body-worn camera (BWC) and must follow department policy regarding its usage.
K-9 training is done by the UCIPD K-9 team on a weekly, if not daily, basis. Some of the training occurs on the UCI campus. If a large-scale training exercise were to take place on campus, UCIPD would ask UCI's Strategic Communications & Public Affairs Division to communicate the training to the campus community and appropriate signage would be posted before and during the event in the immediate area of the training.
UCI K-9s will only be trained in explosives detection and tracking. These have already been conveyed to the community. No additional detection capabilities, such as narcotic detection, are going to be used or added.
UCI employs "best practices" training which utilizes industry standards of positive reinforcement. Training methods are reinforced by our contract trainers during the monthly training sessions.
UCIPD K-9 handlers complete a 6-8 week Basic K-9 Handler course. Training includes care and management of the K-9.
A licensed veterinarian conducts an initial inspection of our K-9 for health, vaccinations, and overall condition. They are then seen annually thereafter, unless the K-9 becomes sick and needs treatment.
Our K-9 is also checked monthly by an outside vendor responsible for the verifiable ongoing training.
The K-9 Coordinator oversees the K-9 program. In this role, the K-9 Coordinator is a supervisor or management level employee of the police department who is responsible for the overall management of the K-9 program. The K-9 Coordinator is responsible for ensuring that policies and procedures are being adhered to, and that the health and welfare of the K-9s are both the coordinator and the handler's #1 priority.