To the Anteater community: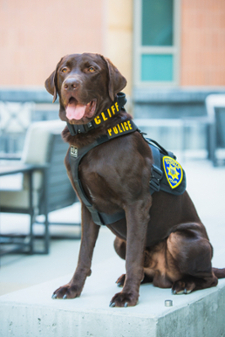 Please welcome Cliff, the newest member of the UCI family.
Cliff is a key member of the newly launched K-9 Program at the UCI Police Department. The two-year-old chocolate Labrador retriever is trained solely to detect explosive related materials, which includes firearms. In the future, Cliff will be trained to track lost and missing persons. One of Cliff's primary duties is to conduct searches before large events as part of our events safety practice. The K-9 Program is funded by a UC grant program.
Officer Jordan Leyland, a three-year veteran with UCIPD, was selected as the department's first K-9 handler. He formerly attended UCI on a baseball scholarship and played professionally before pursuing a career in public safety.
Cliff and Officer Leyland look forward to meeting members of the campus community during Welcome Week. Please visit UCIPD's website to view FAQs, find out how you can meet Cliff, read fun facts about Cliff and his habits, and download a Zoom background!
Sincerely,
Ronald Cortez (Pronouns: he/him/his)
Chief Financial Officer
Vice Chancellor, Division of Finance and Administration
Liz Griffin (Pronouns: she/her/hers)
Chief of Police
UCI Police Department